Millennium Dental Mosman provide fun, engaging and educational children's dental appointments at their Mosman dental practice
Your children's dental health is important and crucial for their ongoing general health. There is a systemic connection between the mouth and your body, which means that both parts interrelate and affect one another. As professionals in the dental industry we see this on a daily basis, where a dental problem has been ignored, resulting in a general health problem and vice versa.
This systemic connection is why Millennium Dental Mosman in Mosman recommends bringing your children in for a dental appointment as soon as possible. This will ensure that we can monitor their oral health from a young age on a regular basis so that any problems are noticed at an early age.
When is the best time to take my child to the dentist?
The best time to take your child to visit the dentist is when they're around 3-4 years old. At this age most or all of their baby teeth have erupted and they're also likely to be at a preschool and are beginning to learn how to take direction from adults. We're sure your kids will love to see their teeth on our ceiling mounted TV.
Generally, these visits are about getting your child comfortable in the surroundings and to give parents advice with regards to brushing their child's teeth and what to eat and not to eat!
What are the side effects of teething on the mouth?
There are many oral symptoms that accompany this time in your child's life including:
Inflamed or irritated gums
Increased saliva and drooling
Lack of appetite or a change of taste when it comes to foods
A rash on their cheeks
Teething can also result in a change in behaviour such as irritability which is a common problem among teething children.
When do baby teeth begin to erupt in the mouth?
Baby teeth (deciduous or primary teeth) will erupt at approximately 6 months of age. Different types of teeth generally erupt at different times, although this should not make a significant difference to their oral health if teeth erupt in a different order. Find out more about this in our info-graphic below.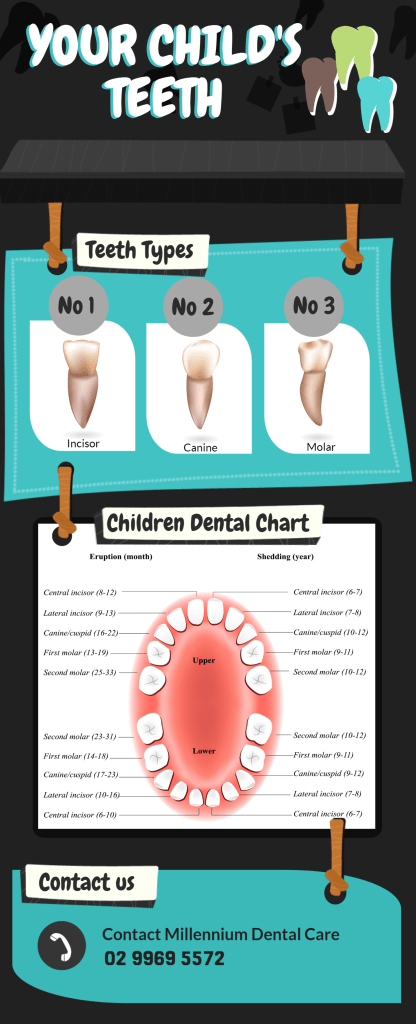 First to erupt, first to shed
As you can see, the central incisors erupt in the mouth first, then the canines and finally or near the same time are the molars. Your child will also most likely lose teeth in the same order: first incisors, then canines and then molars. This is why you may see many children (or even your own) with their two front teeth missing at the same time. These are their central incisors which are the first to erupt in the mouth.
Your child's baby teeth can affect their adult teeth
The health and even the position of your child's baby teeth can affect their adult teeth. This is why it's important to bring your child in at a young age while they still have their baby teeth so that we can ensure the best possible outcome for them. Gum disease and cavities are also still a potential problem for baby teeth, and cavities still hurt just as much in baby teeth as adult teeth. This is why it's so important to maintain your child's oral health.
How do I keep my child's teeth healthy?
It's important that your child brushes their teeth twice a day (after breakfast and before bed) using a soft bristled tooth brush. You should also teach them to floss at around 12 so that it becomes a habit, although this can be difficult for some children. We recommend parents help their children brush their teeth until they're around 8 years old. This is because although they're physically capable of brushing at a younger age they have no real concept of what they're doing until around 8-9.
We welcome your questions
Questions are normal for young parents, as well as seasoned parents! If you have a dental enquiry of any kind please give our friendly team a call on 02 9969 5572. Dr Mark Rosenberg and his team will do their best to answer your query.
If you think your child is ready for an appointment you can also either book online or over the phone.
Click here to book your appointment online or call 02 9969 5572 to book over the phone.