A comprehensive dentist is a term that's thrown around a lot when it comes to dentistry. A true cosmetic dentist is a qualified dentist that goes above and beyond the standard of general dentists in terms of their treatments and service.
Benefits of comprehensive dentistry
Offering an extended range of dental procedures shows dedication to patients and passion for the field. Most patients also find a comprehensive dentist convenient because all of their treatments are available from one practitioner. This saves you from having to look around for another dentist on top of your general dentist for your particular problems.
A truly comprehensive dentist usually offers cosmetic dentistry, orthodontics, TMD treatment and more
These are treatments that go above and beyond the requirements of a general dentist. Take a look below to see the difference between a general dentist and a comprehensive dentist.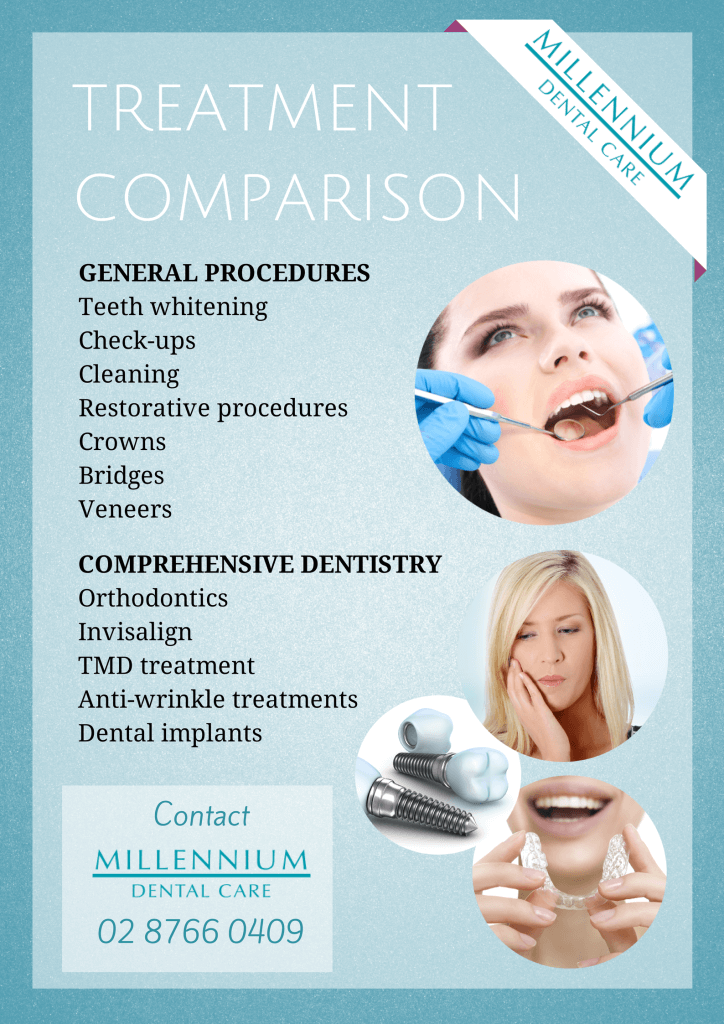 While there are more options than those listed above, these are generally what you should look for in a comprehensive dentist. By offering treatment options like orthodontics, Invisalign, TMD and dental implants your dentist is ensuring that you can receive treatment for many conditions under one roof.
Why should I visit a comprehensive dentist? Can't I visit a specialist for other problems?
A comprehensive dentist who has knowledge that spreads across a variety of areas will be able to identify and treat a broader range of problems and notice such problems in their early stages. A dentist who has experience treating TMJ pain will be able to follow through the whole course of treatment while also delivering whatever general dental needs you require.
Millennium Dental Mosman in Mosman offers a full range of treatments including TMD treatment, Invisalign, oral surgery and orthodontics in Mosman. We also perform anti-wrinkle treatment for patients that want to improve the appearance of their smile and the area of the face that surrounds this area.
We're with you for your entire dental journey
By offering more treatments your dentist will ensure that you don't have to chop and change practitioners depending on your problems. You will be able to maintain a relationship with one dentist who will follow through with most or all of your dental procedures.
Millennium Dental Mosman in Mosman is passionate about offering a comprehensive range of services for their Sydney patients. If you're looking for a dentist near Cremorne or Neutral Bay then please come and meet Dr Mark Rosenberg at Millennium Dental Mosman. We have a friendly team of passionate dentists and assistants, and can help treat a variety of dental problems as well as just look after your smile.
If you have a condition such as TMD or if you need dental implants or orthodontics we welcome you to make an enquiry below to see if we can provide a solution. We see many patients, from smile makeover patients to mouth reconstruction patients that require oral surgery and more.
Book a dental check-up online. Or call us on 02 8766 0409