Everyone knows that teeth whitening can improve the appearance of their smile, but there are other factors you need to consider. It's not as simple as getting a perfect smile – there are things that may remove you as an ideal candidate for teeth whitening and there is information you may need to know. As your teeth are extremely important in life it's important you know enough about whatever comes in contact with your teeth.
How does teeth whitening work?
Professional teeth whitening with your dentist has one of two active bleaching ingredients. Either carbamide peroxide or hydrogen peroxide, and when it is applied to your teeth it will break down into peroxide and urea – although the peroxide will be the active whitening ingredient. The peroxide will then normally be activated using an LED light although is not always necessary which is how take-home whitening works.
Is teeth whitening or bleaching safe?
If you're worried about how safe teeth whitening is then there are a few things you should know. There is only approximately 15-35% hydrogen peroxide in one teeth whitening application – which is only a small amount of peroxide.
The problem with store bought whitening products is that the percentage of bleaching agent contained is much smaller than dispensed by a dentist and therefore doesn't work very well.
Do I need to do anything before whitening my teeth?
Before whitening your teeth you should see your dentist. Stains should first be cleaned and removed to allow the whitening agent to work.
Why won't stains on my teeth go away with brushing and cleaning?
That's because there are two types of stains – extrinsic and intrinsic. Extrinsic stains are on the outside of the teeth and are commonly caused by the food you eat and the drinks you consume. Intrinsic stains are when stains penetrate the surface of the tooth. These are generally only treatable with professional teeth whitening and even then sometimes they are too deep to remove completely unless veneers or cosmetic dental bonding is used.
Your dentist can help you get rid of intrinsic stains with professional whitening in a safe way. At Millennium Dental Mosman in Mosman we will only perform teeth whitening when we're sure your smile is healthy enough for treatment. Our dentist, Dr Rosenberg will apply our high quality whitening product – ZOOM! Teeth Whitening which has been used on thousands of smiles across the globe.
This treatment is perfect if you feel embarrassed about your smile and as long as your smile is healthy. Many people feel self-conscious about cigarette stains or brown spots on their teeth. If this sounds like you then you may benefit from our special offer.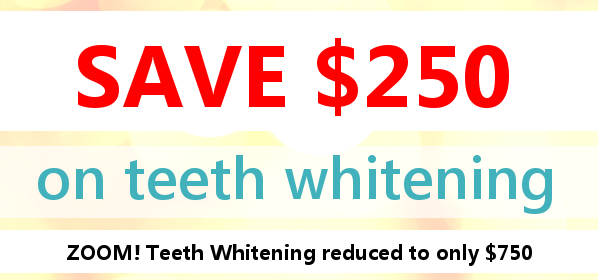 Book a dental check-up online. Or call us on 02 8766 0409